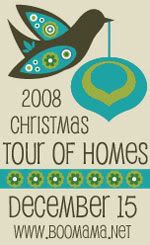 Welcome to Boo Mama's Christmas Tour! I don't have a ton of Christmas decorations since this is only our second married Christmas - but we're getting more and more.
This is the wreath that my mother in law gave me. I can't wait to paint the outside next year - no more blue! And yes, those are snowflakes falling down!!
Our tree is MUCH prettier in person - but I am not a good photographer at all. Seeing this picture makes me realize how very bare it is without a tree skirt and no wrapped gifts yet! Growing up we never had trees taller than 5 feet or so - so this year Eric took me to cut one down and I got a 10-11 footer!! I was in heaven!
My first attempt at a wreath - the lights already died so I need new batteries.
Thanks to Mandy for this beautiful ornament from
Kate's Great Ornament Exchange
!
My small table top decorations -
So there you have it - our first Christmas in our new house!